It was 5 AM or so (after having my first child this became the standard wake-up time…). I had just grabbed a cup of coffee and was getting ready to start working when I saw an email from Jeff Morris Junior. Jeff is an ex-VP of Product at Tinder and the founder of ChapterOne.vc, a venture capital fund that invested in companies such as Lyft, Superhuman and Misfits. Some weeks prior to that date I had applied our startup (AZpop, then called AgendaZap, a mobile app that works like Yellow Pages for WhatsApp) to the first cohort of his acceleration program, called Product Club. We had already provided all the requested info, exchanged some emails and gone through a video interview, so the email was either a rejection or an acceptance. It was very exciting to find out that we were one of the three (out of 500 applicants) to be selected!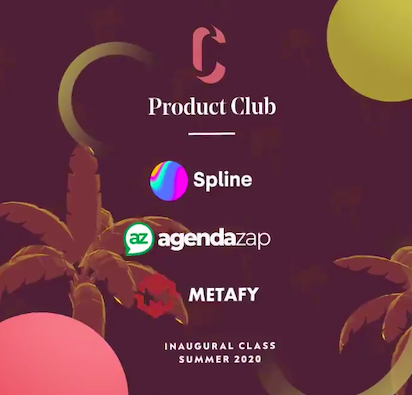 What caught my attention about the program was that it was completely focused on product development, while most of the accelerators out there tend to focus on growth (and not all startups are on that phase yet) and fundraising. The deal was very good as well: $100,000 for 5% of the company.
Cutting to the chase: was it worth it? Absolutely! It was one of the best things that happened to our startup. In fact, even if you remove the investment they make I would still have found the program completely worth our time and probably would still be open to giving some equity just to participate in the program, which is saying a lot!
Here is a quick summary of how it helped us:
It allowed us to refine our vision about the company, about our customer and about the value we create in the market
It taught us the best practices about product development and how to create a product driven organization
It paired us (on Jeff's dime!) with Ryan Mick, a world-class designer, who was instrumental into developing our new interface and UX. This is one of the best features of the program and something no other accelerator does as far as I know.
Even though fundraising was never the focus Jeff introduced us to many investors (and many approached us spontaneously due to the visibility of the program) and we managed to raise our pre-Seed round without much work
You could say that we entered with not a lot of money, a crap product and a blurred vision about what we were trying to do. We left with money in the bank, a better product and a much clearer vision of what we are trying to accomplish and how to get there. We obviously are still trying to get to product market fit, but I believe we are much better equipped to top this challenge now.
Another positive note is that we had direct access to Jeff himself throughout the program. In fact, even before it started we were already exchanging messages on WhatsApp.
Below you will find a summary of the 10 mentorship sessions we went through. Keep in mind that on all of them we had one-on-one time with the mentors, which is very valuable.
Week 1: Vision and roadmap planning Josh Elman (Greylock, ex Twitter, LinkedIn and Facebook)
Josh is a world-class investor and product manager. This session was very important to refine our vision of the company, understand who our customer really is and how to create a roadmap to get the company to product market fit.
Week 2: Data-driven product development Manik Gupta (ex Chief Product Officer at Uber)
Manik shared with us the lessons learned from his Uber and Google Maps days. For example, it is important to understand how you can leverage your users to grow your database and product over time.
Week 3: Running constant experiments with Peter Sellis (Snap)
In the third week we learned about the importance of running constant product experiments, and that product experiments and product roadmap are completely different things (even though one might affect the order). It is also paramount to have a framework where you evaluate the difficulty and impact of each proposed experiment so that you can prioritize the order of execution.
Week 3 Bonus: The legal side of Fundraising with Drew Morris
Drew used to work at Wilson Sonsini, arguably the most important and famous law practice for technology startups. We discussed topics such as until what point it makes sense to use SAFEs (which is usually up to $1 million in raised capital), when two officially markup your share prices and so on.
Week 4: Reality distortion and productivity with Adam Grenier (ex Uber, Lambda School)
My philosophy has always been to assume that we are dumber and less talented than the competition and, for this reason, that we need to work twice as hard and twice as much if we want to succeed. We discussed with Adam how we can use reality distortion and productivity hacks to hit milestones in a fraction of the initially forecast timeframe.
Week 5: Organic growth loops with Merci Victoria Grace (Lightspeed, ex Head of Growth at Slack)
If you asked me one year ago my thoughts on paid acquisition I would reply: is your CAC lower than LTV? Well, it turns out it is not so simple!
Learning about and developing organic growth loops was one of the cornerstones of the program for us. Very often more important than product innovation is go to market innovation.
Week 6: Design with Danny Trinh (ex Digg, Path, Zenly)
Danny is a great designer with a no-bullshit approach that we love. The session was great and we learned about not reinventing the wheel (who would have guessed!), understanding best practices, and testing and making number backed decisions even for design and navigation choices.
Week 7: PR and storytelling with Josh Constine (SignalFire, ex TechCrunch)
This session was mind blowing. Unfortunately Josh asked us to not review any of the content discussed because eventually he is going to turn this master class into an online course (if he does, pay whatever he asks to attend!). The bottom line is that getting press involves both strategy and a lot of tactics. You need to be careful even about small details if you want to maximize your results.
Week 8: Pitch practice with Greg Rosen (BoxGroup, ex Benchmark)
As you certainly know, pitching is as much science as art. Here's some of the stuff that was missing or that could have been clearer on our pitch:
-What geographical market we are targeting and why (especially important if you are outside the US talking to US investors!)
-Why now is the right time for this
-What is the value proposition for both sides of our marketplace
Week 9: Influencer marketing with Darren Lachtman (ex Global Director of Brand Strategy at Twitter)
If you are not doing anything with influencers in your niche you are missing out on a big marketing opportunity. There are many examples of startups that leverage this channel to grow and it should definitely be part of your playbook.
Week 10: Sustainable Growth with Daniel Pearson (Bamboo)
Daniel is a master when it comes to paid advertising and balancing it out with organic growth. during our first year we have used a lot of paid advertising and are now focusing on developing organic growth loops, so this session was very important to make sure we are in the right track for the user acquisition strategy.
Conclusion
If you have a startup and believe that you could improve both your product and product development processes (which is pretty much every startup in my opinion) make sure to follow @chapterone and apply to their next batch!